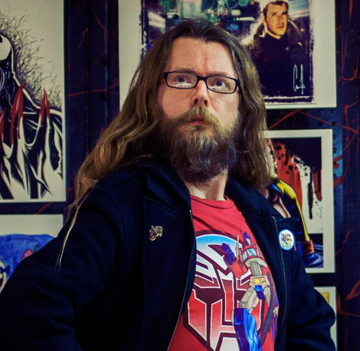 James works with PLB Comics as their marketing support, script and copy editor as well as letterer, sometimes colorist, sometimes inker and full time grunt laborer. A lifelong fan of comics of all kinds, James has always had a deep respect and admiration for independent comics and the hardworking people who bring them to life. "Over the past few years I have had a great opportunity to work with and become part of the PLB comics family. Creating with such a talented, down to earth and close knit group has really been a phenomenal experience."
In addition to working directly on PLB Comic's newest releases (The Fall: Vengeance and Justice, Gideon and Sebastian: Predators and Prey and the yearly Halloween special) James has also worked closely with the PLB team in implementing their Creating Comics Events. These events are seminars given at schools, libraries, and other venues that give an overview of the comic book creation process. Their aim is to bring young people back to comic books, and to help the next generation of comic book fans and professionals.
James has done freelance work in lettering, editing and digital setup with such companies and comics as; American Mythology, Coldstream Studios, Rebel Rouser Studios, Warmask, Charm City Chronicles, Acid I Comics, Sumbry Publishing, Red Cloud Comics and more and is available for commission work.
James also serves as the Coordinator of the Ocean City Comic Con, assists in Salisbury 3rd Friday (a local monthly arts event), and creates visual assets for several independent conventions and events.
James can be contacted for media requests, review material and general questions at
promotions@plbcomics.com