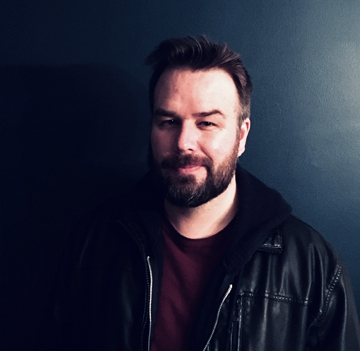 Josh was born and raised on the Eastern Shore of Maryland. At a young age he started drawing and creating his own comics alongside his younger brother Mat. At the age of 7 Josh came up with the PLB "name" for their comics as an abbreviation because he didn't feel like trying to spell out the full company name on the covers of books. In the fall of 2006 Josh and Mat along with their friends Mike Carmean and Karlton Hargrove self-published PLB Comics' first comic book- PLB COMICS PRESENTS #1. The book was comprised of 5 short ongoing stories. Josh wrote, drew and inked the Danger Squad segment, as well as wrote and inked the Portal 317 segment. They would further publish two more issues of "Presents". After that time Josh and Mat decided to do solo anthology titles for their hit break out characters of The Fall and Gideon and Sebastian that appeared in those "Presents" books.
Josh has written, penciled and inked contributing stories for every issue of The Fall: Vengeance and Justice, Gideon and Sebastian: Predators and Prey, and the PLB Comics Halloween Special. In addition he wrote and drew stories for PLB's one shot kids book: The Thrilling Misadventures of Jellyman and Toast.
Currently, PLB Co-founder Josh Shockley is busier than ever, writing and drawing the upcoming 48 page John the Swamp Dude solo book, which is slated for release in the Spring of 2019, as well as working on the upcoming 2019 PLB Comics Halloween Special. Other non PLB published works include stories, art and covers for various publications from Coldstream Studios, Acid I Comics, Trunk Novel Publishing, and Rebel Rouser Studios.
Josh enjoys teaching the art of comic books alongside Mat and James, and through the years the PLB team has refined their "Creating Comics Workshop" that they began teaching in libraries and schools back in 2008. Josh has also taught art for the Laurel, Delaware Chapter of the Boys and Girls Club from 2012-2014, as well as a 6 part session comic book art class for the Ocean City Art League in 2011. Alongside Mat and James, and in conjunction with the Action Anime Society of UMES, Josh assisted in putting on the Eastern Shore Fan Con (a comic book, anime and gaming convention) from the years 2012-2015. Alongside James and Mat, Josh assisted in putting on Ocean City Comic Con, in Ocean City Md. during the winters of 2017, and 2018 respectively. Josh's work has been exhibited alongside Mat and James at numerous gallery shows throughout the years, including the Mosley Gallary, The Gibby, and the Salisbury Art Space (formally known as the AIG). A lifelong lover of comic books and the art form of comics, Josh is excited and constantly busy with PLB projects. Josh resides on the Eastern Shore in Salisbury with his partner Michelle and their pets Storm and Samuel.
Josh can be contacted through any of the PLB social media, or by emailing
joshplbcomics@aol.com